British Aggregates Association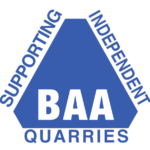 Please complete as much of the form as possible.
As an absolute minimum the total number of legally reportable RIDDOR accidents and dangerous occurrences should be reported (rows B and C).
The head count data (row E) will be used in calculating accident frequency rates.
RIDDOR (1) (Reporting of Injuries, Diseases and Dangerous Occurrences Regulations – 2013) reportable accident is one that involves a fatality or a specified injury on site. It also includes any accident which involves the injured person being off work for more than seven days. A specified injury could be a fracture, dislocation and any loss of sight whether it be temporary or permanent.
RIDDOR (2) Reportable dangerous occurrence is a collapse of a storage bunker, an accident involving explosives, a fly rock incident, a misfire, any insecure tips or any movement of a slope or face